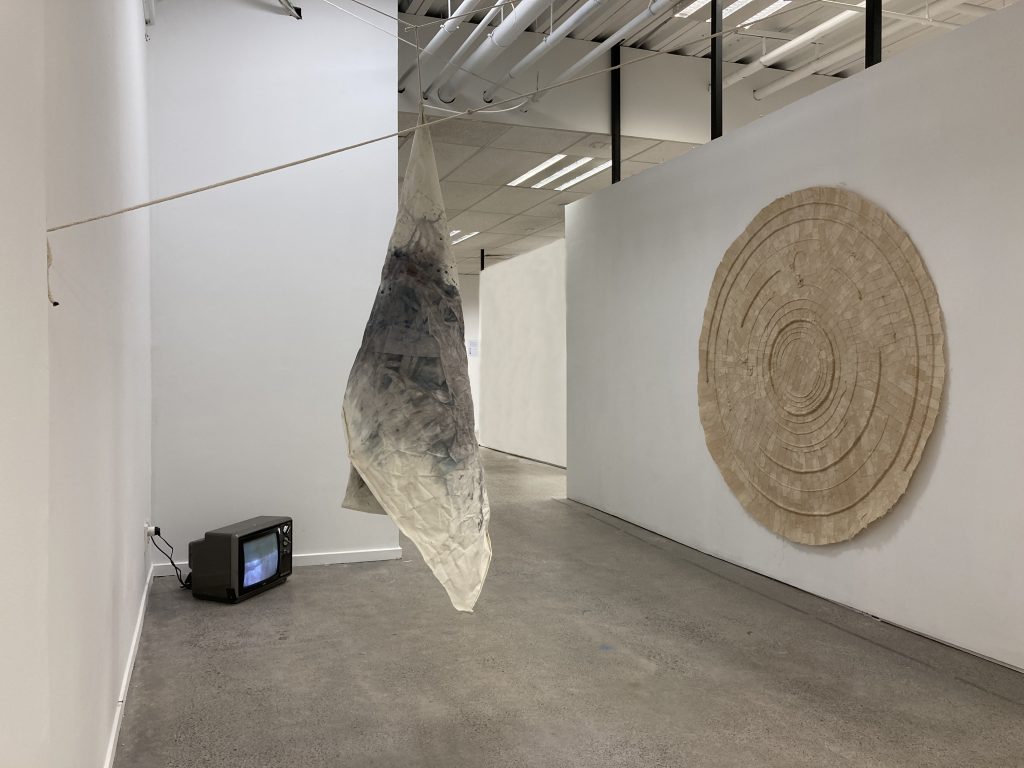 I am drawn to materials that have transformative and malleable qualities, and that are typically reused, recycled or readily available, capturing my attention in relation to a current feeling or inquiry. I engage with materials in a 'co-collaborative' and 'co-responsible' way [1], maximising on the character traits of a material in a process that helps to spark ideas, aid navigation and present technical challenges to overcome. I was recently motivated by Richard Serra's Verb List Compilation: Actions to Relate to Oneself (1967-1968). In response to this text I began playing with the use of verbs as titles in the production of my works, and these provide a stretchy structure for my making. The work To Suspend, speaks to the suspension of my creative process as it was travelling, prior to the impact of COVID-19 on my personal world, and our shared reality. This feeling of being stalled in process and in life is signified in the exhibition space with the suspension of an inverted, body-sized canvas that I had previously been working with. My arm-span as a measure of my body in space became amplified during the Nation's Alert Level 4 lockdown. Using collapsible cotton runs, elasticated cord and rope, I began playing with ways to exercise my emotions along with my body, stretching the material and my limbs, to the perimeter of my world. The work To Move Inside gives voice to my body as it moved in and out of a state of 'being present' to the unfolding situation. The looped video reveals verbs that arose for me during this period, these written actions on canvas were then further processed into segmented parts and massaged into the back of my third work To Piece. This third work matches in diameter the length of my body and arm-span, a process that required time, patience and repetition in its making. The runs of fibrous material, recurrent in each of the works, have an umbilical-like feel for me that make me think about: connection and attachment, nurturance and sustenance, blood flow and lifeforce, enlivened during the process of making.
In the installation of these works there is consideration of gravity; and proportion of works in relation to the body of the maker and the body of the beholder. There is an intention for the works to be actively explored in their relationship to the space they occupy.
Estelle Barrett and Barbara Bolt, Carnal knowledge: Towards a 'New Materialism' Through The Arts (London: I.B. Tauris, 2013).